Vinyl Cedar Shake Siding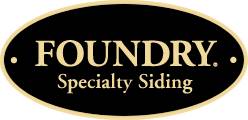 Vinyl Cedar Shake Siding offers the hallmark of our Split Shakes, which offers the look of wood that's been hand-split by an axe, reveling random groves and grain. The depth creates captivation contrast between light and shadow to heighten visual appeal.
If you seek sophisticated siding with wood's natural look and warmth, The Foundry was designed for you.  Offering beauty and brawn unmatched by other brands, Foundry is truly best-in-class. Its sublime surfaces, shapes and colors can enrich and upgrade any home.
Nine unique profiles allow you to create compelling looks ranging from rustic charm to upscale elegance and sophistication. 
Vinyl Cedar Shake Siding has the real look of Cedar Shakes with no real maintenance.
Cedar has long been treasured for its immersive, stunning curb appeal. However real cedar requires meticulous and continual upkeep.
---

Vinyl Cedar Shake Siding comes in two popular styles.
7" Split Shake, and 

10" Staggered Shake:
The 7" Split Shake.: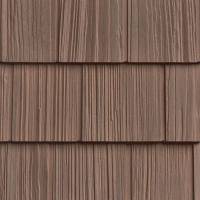 Split Shake
7" Split Shake is one of the most popular styles. Features versatile, warm, authentic textures.




---
Our most popular cedar profile, the 7" Split Shake features the versatile, authentic texture of real cedar. Ideal for new home construction or upgrading older homes.

Season after season and year after year, Foundry Shakes hold their rich color, protected by a durable ASA cap.  Backed by a limited lifetime warranty and toughness that stands up to the elements, they never require any sanding, scraping, staining or painting. 
Available in 7" profile only.
---
10" Staggered Shake Siding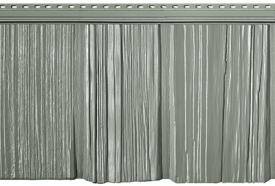 Staggered Shake
Rough-hewn texture, staggered butt ends, random keyways and varied widths provide rustic attractiveness.

Staggered shake siding is the most elemental and dramatic Foundry profile. 
The 10" Staggered Shake showcases the longest, most profound grain lines. It's the industry's most uniquely-rugged shake siding, elevating rustic character to a new level.
These Foundry Shakes are perfect for places like the Northwood's of Wisconsin and the Pacific Northwest, and all the way down to the South and anywhere that home-owners appreciate nature.

---
Foundry delivers a comprehensive, genuine selection of cedar profiles that offer outstanding curb appeal and maintenance-free living.  Unlike wood, it will never rot, warp, buckle or crack.
From shingles with a subtle grain detail to staggered shakes with a bold rustic dimension, our textures help you create your desired look-beautifully, simply and maintenance-free.
For more information on this 7" Split Shake and the 10" Staggered Shake along with other colors and textures,  click here. Foundry Brochure Vinyl Cedar Shake.
---

Go back to Vinyl Cedar Shake Siding page..click here.  
To see more video's of Foundry Cedar Shake Siding click here. 
Go back to Home Page All About Siding  click here.