Alside Vinyl Siding Pictures
 Alside Vinyl Siding Pictures showing the diverse styles and colors of the siding. Many different home styles from large grand homes to small suburban homes. 
Charter Oak Vinyl Siding
Alside vinyl siding pictures showing large grand homes in different settings all using the premium siding products from Alside.
Alside's flagship siding product, Charter Oak, combines authentic wood beauty with unmatched durability, performance, and maintenance freedom.
.046 premium panel thickness

Exclusive TriBeam design gives Charter Oak superior strength,

Charter Oak siding has been independently tested to withstand Category 5 hurricane-force winds.  
---
Pictures of Homes Using Alside Premium Vinyl Siding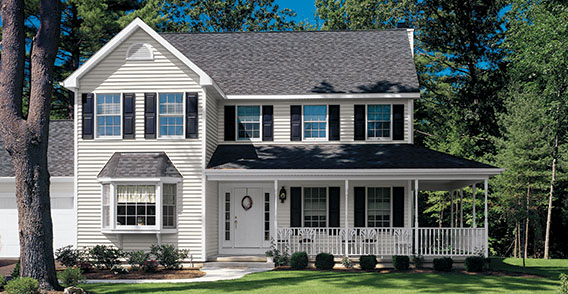 Alside Center-Loc Vinyl Siding
CenterLock vinyl siding by Alside.
.044" premium panel thickness

Patented mid-panel lock design pulls panels tight to the wall and provides enhance panel rigidity.

Deep, realistic shadow lines and a beautiful low-gloss finish,

In independent tests, CenterLock stayed locked in place in winds exceeding 150 mph!   
---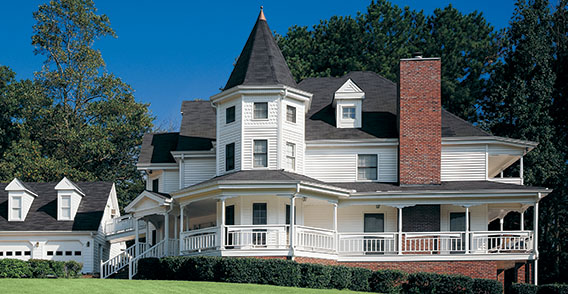 Odyssey Vinyl Siding
Odyssey Plus
Premium .044" panel thickness without the premium price,

Advanced lock design provides superior rigidity,

Extra strong rolled over nail hem, 




Choose from up to 19 popular colors including six designer colors.    
---
Alside Vinyl Siding Pictures of Neighborhood Homes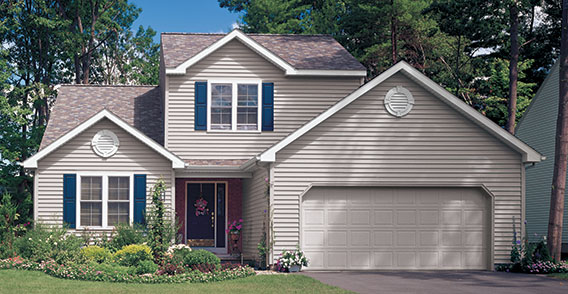 Coventry Vinyl Siding by Alside
Coventry by Alside
.042" Thickness

Available in double 4", double 5" clapboard and dutch lap

Rolled top nail hem provides added rigidity,

Natural cedar grain texture.  
---
Alside Vinyl Siding Pictures of Smaller Homes
Alside vinyl siding has siding products for every budget. Large grand homes to regular suburban neighborhood homes. Vinyl Siding will transform the curb appeal of your home into a new exciting house, the envy of all the neighbors.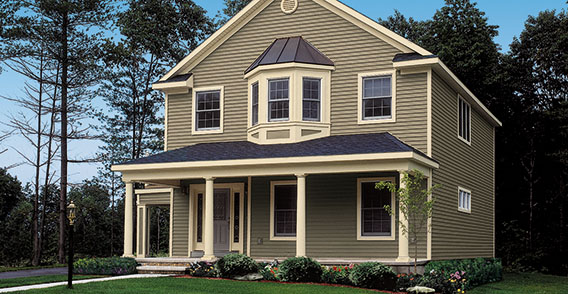 Conquest Vinyl Siding by Alside
Conquest Vinyl Siding.
.040" thickness

Available in 4 1/2" clapboard and dutch lap profiles,

An occasional rinse with a garden hose will keep conquest's natural cedar grain texture and low gloss finish beautiful year after year
---
---
Historical Homes using Alside Vinyl Siding
Aside Beaded Vinyl Siding
Historical Elegance with Modern Day convenience
A siding style once reserved only for the wealthy, Williamsport Colonial Beaded siding makes it each for every homeowner to enjoy the beauty of this distinguished profile.
Williamsport provides simple elegance and clean, crisp lines for your remodeling or new construction project. Featuring a beautifully detailed profile highlighted by a gently rounded bead and a striking 3/4" projection, this siding style created the authentic look and deep shadow lines usually found only with traditional wood siding.
---
---
Alside Vinyl Siding Comes in many colors:

Alside manufactures vinyl siding in many popular colors.  Below is a great example of blue vinyl siding, Mystic Blue.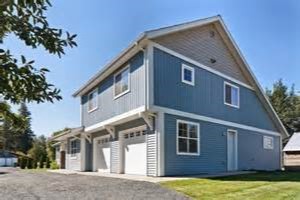 Alside Mystic Blue Vinyl Siding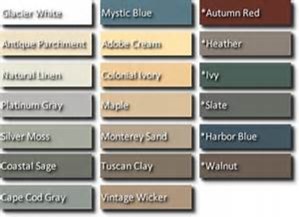 ---
To see a diverse collection of Alside vinyl siding colors click here.  Vinyl Siding Colors.
---
Go to All About Siding Home Page to see a diverse collection of homes using premium vinyl siding with many assorted styles, types, textures, colors, insulated and non-insulated and of course, a variety of prices from economy to premium hurricane resistant sidings. 
Click here All About Siding Home Page
Alside Double 4" Dutch Lap Vinyl Siding
Double 4" Clapboard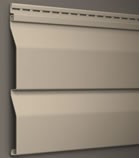 Alside Double 5" Dutch Lap Vinyl Siding
Alside Triple 3" Clapboard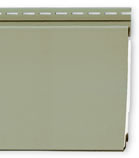 Single 7" Clapboard
If you have a picture of your home that you would like to share with us, please send it to us.
Finding the right vinyl siding is daunting, share your stories about how you did it.
Do you have a great story about this? Share it!