Fiber Cement Board Siding
Fiber cement board, sometimes called 'cement board' is stronger than wood or vinyl, will out last either, and is termite and moisture resistant.  Looks just like wood but stronger, and less expensive than real wood with much less maintenance.
It resists rot, termite damage, hail damage, and can stand up to hurricane force winds.
Sometimes called 'cement fiber siding' or 'cement board siding' it is a product made from a unique blend of cement, sand and cellulose fibers that have been pressure treated to increase durability.  
Looks just like real wood but costs less, stronger than real wood with less maintenance required.
Fiber Cement by Allura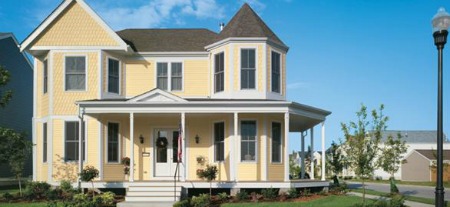 Perfect siding to protect the house against harsh weather, moisture, heat, sun UV, and termites.  
A great alternative to real wood siding.
Beautifully eloquent, very low maintenance compared to real wood, strong and durable. 
---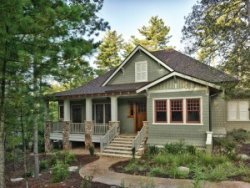 Cement board is the perfect siding whether your home is on the beach or in the woods. 
---

What Is Fiber Cement Siding?

How fiber cement is made.
<iframe width="560" height="315" src="https://www.youtube.com/embed/_D7u9E5rtQU" frameborder="0" allow="accelerometer; autoplay; encrypted-media; gyroscope; picture-in-picture" allowfullscreen></iframe>

---

Cost
Average prices of fiber cement will run somewhere between $9 -$12 per sq foot.
Example:  1,250 sq ft ranch home. (prices are for example only)

vinyl siding:                $6 sq ft     x  1,250 = $7,500.
Fiber Cement Siding:  $11 sq ft   x  1,250 = $13,750.
Real Wood siding:       $6.5 sq ft  x  1,250 = $8,125.

It has many advantages over real wood siding. It is strong and durable, is weather resistant, including hail, wind, rain, snow. It resists rot and insects such as termites.
It is a very good siding for coastal areas where high winds and moisture is a concern.  For the same reasons it is a great siding for wooded areas where termites and boring insects are a problem. It also resists fire.  
Better brands offer 25+ year warranties.    
Cement board will cost more than vinyl siding but less than real wood. It usually requires professional installation.  Fiber cement board is harder to install than vinyl siding and costs substantially more.
In one nationwide survey, they found that installing 1,250 square feet of fiber cement board on a house would cost approximately $13,000 to $14,000 or about $10 - $11 per square foot installed.

Fiber cement board is harder to install than vinyl siding and costs substantially more.
---

Fiber Cement Board Comes In Many Styles and Types

Cement board siding comes in Clapboard or horizontal styles, board and batten or vertical styles and Cedar Shakes.  
It is often used in conjunction with other styles, or in combinations of different types and styles.   
It makes an outstanding accessory for use on gables or garages.  
Click here to review different siding styles.  
---
Allura Fiber Cement Board
Here the homeowner used board and batten fiber cement siding on the garage and straight edge vinyl cedar shakes on the house gable.  Different colors, different styles all combined to create the perfect look.
Fiber cement siding or concrete board is good product when used to refurbish historic and upscale homes to bring new life to them. It actually increases property value because of the low maintenance required and the extremely long life of the products.  Some better brands have 50+ year warranties.
Concrete board comes in a textured finishes that look like real wood.  

To see more information on fiber cement board siding by Allura click here.
---
Colors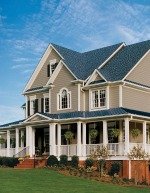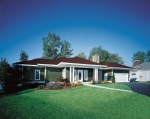 Most manufacturers offer dozens of pre-stained and pre-painted colors.  The product takes paint very well and you can use any custom color you can think of.
Once you install the siding the product will be around for 50+ years. With very little annual maintenance it will continue to look great for decades to come.
Lots of people like the durability of the product because they can change colors at any time they wish over the coming years. Each new painting can give the house a completely new appearance.  
---
Hardie Board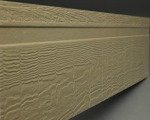 Hardie Board
Hardie Board is one of the most popular products sold. It is used all over the U.S. in every climate. Strong, looks just like wood but stronger and more weather resistant than wood.
To see more about Hardie Board Siding click here.

---

Engineered Wood Siding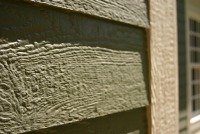 Engineered Wood
Engineered Wood Siding is another type of man made siding that is stronger than real wood and moisture resistant. To learn about Engineered Wood Siding click here

---

Tips and Other Helpful Bits of Information

We are always looking for your thoughts on Vinyl or Fiber Cement Siding.


Please share your story or product knowledge. Have you bought new siding recently and do you have a story or opinion to share? 
---
Here some great articles comparing vinyl and fiber cement sidings.
---
Fiber Cement Board vs. Vinyl Siding
Fiber Cement Board is stronger and less expensive than real wood. It has less maintenance than real wood siding but much more than vinyl siding.
So which is better?
What Other Visitors Have Shared
Click below to see contributions from other visitors to this page...

Fiber cement vs vinyl siding

Comparing cement siding to vinyl siding. Say you have a 2,000 sq ft house ranch house and want to put new siding on it. You should first look at some …
Tips on Talking Price with Contractors

When you ask a contractor for a quote to do a siding job, there are several things the homeowner needs to know in order to be able to negotiate a fair …
---
Home

›
Cement Board
› Fiber Cement Siding