Vinyl Siding Manufacturers
Review and Compare products from top vinyl siding manufacturers,

Pick out Colors and Styles,
Compare thickness and warranties,
Make plenty of notes!

Review and compare top vinyl siding manufacturers products. Pick out colors, styles, textures, thickness and warranties of different sidings. Make plenty of notes so you can compare.

Buying vinyl siding, like buying any other product, is a process of comparing several products to determine which product best fits your particular needs. 
We have listed some top siding manufacturers that have popular vinyl products with outstanding reputations. They all have products in a wide range of prices from economy to premium grades. 
---

Top Vinyl Siding Manufacturers

Most of the top siding manufacturers today make all the popular types and styles of vinyl siding. Each style comes in different colors, textures and thicknesses.
When comparing different products, keep notes on warranties, colors, thickness and other details. This makes it easier to compare the many different products.

---

Board and Batten Siding

CertainTeed 10" Board and Batten
Back to Board and Batten Vinyl Siding click here.
---

Vinyl Cedar Shake Siding

Back to Cedar Shake Vinyl Siding click here.
---

Dutch Lap Vinyl Siding
Dutch Lap Vinyl Siding is on of the more popular siding styles today. It originates from Colonial times and has been used in Europe for centuries. It has a distinctive notch that runs along the top edge.
This notch was once hand carved onto each wooded board to give it a distinctive shadow line. Today vinyl dutch lap siding recreates that hand carved early look but without the high cost of real wood.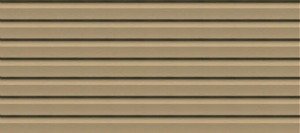 CertainTeed Dutch Lap
Back to Dutch Lap Vinyl Siding click here.
---

Beaded Vinyl Siding

CertainTeed Beaded Siding
---

Other Types of Home Sidings

---

Fiber Cement Board

Allura Fiber Cement
Fiber cement board or as it is sometimes called 'cement fiber siding' is made from cement, sand, and cellulose fibers that have been heated under pressure in the factory to make it very strong, durable, moisture and rot resistant.
It is hard enough that carbide-tipped saw blades are used to cut it.  
Look just like real cedar wood. But much stronger. Can withstand hurricane force winds.

---
To review more vinyl siding styles click here.
or to see more pictures of homes using different types and styles of vinyl siding click here.

Home
› Siding Manufacturers