Insulated Vinyl Siding
Adding insulated vinyl siding to your house will save you money all year round! Year after year after year!!
The additional foam insulation on the vinyl siding adds 'R' value to the walls of your house and makes it more energy efficient saving you money year around both in the harsh winter and the hot summers.  
---
To Insulate or Not To Insulate  That is the Question

Since adding insulation increases the 'R' value of your exterior walls thus saving money on energy bills, the only reason you would not use insulated siding would be the cost associated with it. 
If it fits within your budget then you should use it.  Always ask your local contractor for suggestions on which insulated siding is best for your house and your budget.
Your contractor will be glad to give you options and prices.  
---
Standard clapboard vinyl siding.  
Standard Vinyl Siding
Insulated Siding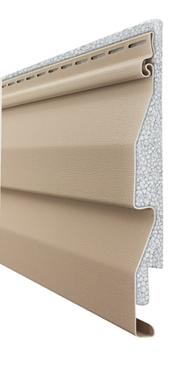 Insulated Vinyl Siding
Siding on right has factory applied foam insulation. 

Note the insulation attached to the back of the insulated siding.
This increases the 'R' value of the siding and your walls. It also dampens noise and makes the siding more rigid. 
Insulated siding is siding that has factory installed insulation attached to it by the manufacturer while it is being made.
It cost a little more than standard vinyl, sometimes as much as 20% -25%+ more.  
But it keeps on saving money during cold harsh winters and steamy hot summers year after year.
Most contractors agree it is well worth the extra cost because it saves on energy costs. 
---
Comparing Insulated vs Non-Insulated Siding
Insulated Siding Benefits: 
Saves on energy costs  
Is a good noise barrier 
Is stronger than standard siding 
Does not warp or have waves like standard siding  
Adding the extra insulation can help to reduce your homes energy costs in all climates.
Another great advantage of having insulation added to the siding is that it acts as a noise barrier. It greatly dampens outside noise like traffic, noisy kids, etc.

Standard Vinyl Siding Benefits:
Costs less 
Easier to install   
---
The Story on Insulated Siding
Insulated Siding
Click to see larger picture.
More Information on Insulated Vinyl Siding
The Vinyl Siding Institute has a lot of good information on insulated vinyl sidings and how they can save you more money.
Click here it go to Vinyl Siding Institute Insulated Siding page.   
---

Compare 'R' Values of Different Types of Siding 
'R' Values of the most popular home sidings: 
        Siding Type                        'R' Values      *(higher the number the better)
Stone                                  .01 
Stucco                                 .10 
Brick                                    .11
Fiber Cement                       .59
Regular Vinyl Siding              .62
Wood                                   .81
Insulated Vinyl Siding     2.0 - 3.5   most energy saving!
As you can see from the numbers above, insulated siding is a great way to add additional R value to your existing walls.
---
How Does Insulated Siding Work?

To see how much energy savings you can get by upgrading standard vinyl siding to insulated siding and to see houses loose heat through walls....Click Here  How It Works.  
---

Save on Energy Costs by Adding Insulation