Engineered Wood Siding
Engineered Wood Siding
Looks like real wood, only better.  
Less expensive than wood, stronger than wood, insect resistant, water resistant, rot resistant, and durable.
Note life like texture. Comes pre-primed from factory for better paint cohesion. 

LP SmartSide engineered wood siding up close. Looks just like real wood without the high maintenance of wood. Comes in many styles and textures.
---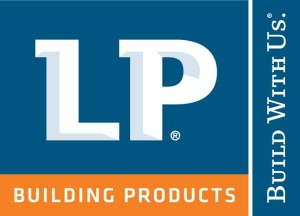 Engineered wood. by LP Building Products.
LP Building Products is a leading manufacturer of high-quality building materials. Builders and homeowners use our products primarily in new construction, repair and remodeling, and manufactured housing.  LP products are sold through distributors, dealers, professional lumberyards, and retail home centers.
Headquartered in Nashville, Tennessee, LP has been named one of the safest companies in American and operates production facilities in the U.S., Canada, and South America.  
---

Engineered wood products have the look and texture of real wood only stronger and more durable than real wood.

Less expensive than real wood siding, engineered wood looks exactly like wood, made from wood strands and/or wood fibers, strong resins and zinc borate added to protect from termites and fungal decay.  
---
How Strong Is Engineered Wood Siding?


How strong is engineered wood siding?  It's much stronger than real wood siding, is insect and termite resistant, is also fire resistant, and water, and rot resistant. 
---
---

Comes in many of the popular types, such as board and batten, and lap siding.

LP SmartSide Lap Siding
Here is Lp SmartSide Lap Siding. Comes in smooth texture or rich cedar grain.
---
Board and Batten
Board and batten siding is used here on the gables of this house. Looks exactly like real cedar wood siding without the high maintenance of real wood.

LP Board and Batten Siding
Stronger than real wood, mold, and termite resistant.
Costs less than real wood siding but more than vinyl siding.
It requires professional installation. Withstands harsh weather better than both wood and vinyl. 
---

Comes in smooth or textured finish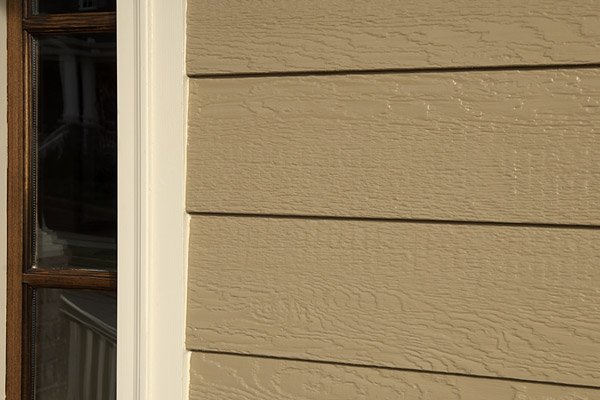 Smooth Lap Siding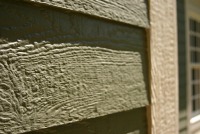 Textured Cedar Finish
Engineered Wood Siding comes in several different textures, from smooth cedar to deeply grained Cedar texture.

Looks like freshly painted cedar planks. Requires much less maintenance, painting, and resists harsh weather better than real wood.  
To see pictures of homes using this product click here.  Pictures.

Back to Cement Board Siding click here. 
Go back to Vinyl Siding Styles...click here. 
To go back to Vinyl Siding Manufacturers, click here. 
---
Engineered Wood is GREEN

---

Colors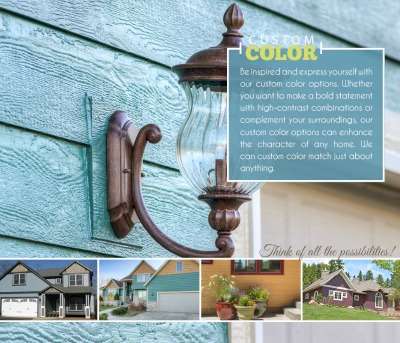 Factory finish colors are added to create an almost unlimited color pallet.
To see more color choices, click here.

---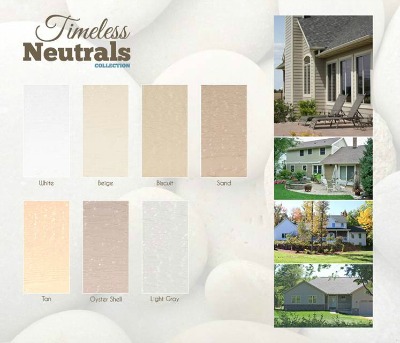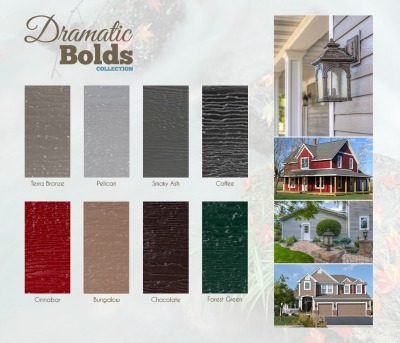 ---
Used Engineered wood as window trim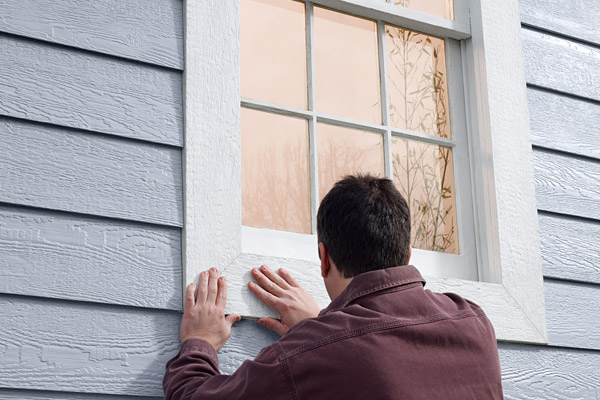 Applied here window trim. Mold and termite resistance makes an excellent trim material for areas of the house where you don't want to have to paint every few years.
Most older homes have weather-related problems with wooden windows and door frames. Engineered wood is more resistant to rot, mold, and termite damage than wood siding.
It applies just like real wood, easy to cut and nail, just stronger and more durable.  Can be painted any color. So, matching or color coordinating the trim around your house is as easy as picking out the right color of paint that you like.

Factory Pre-Cut vented Soffits
This product is great for use in areas where regular wood is hard to get to and keep painted. Areas where water damage and rot are common.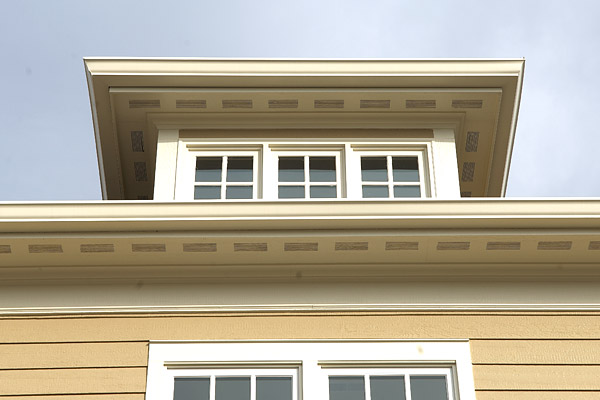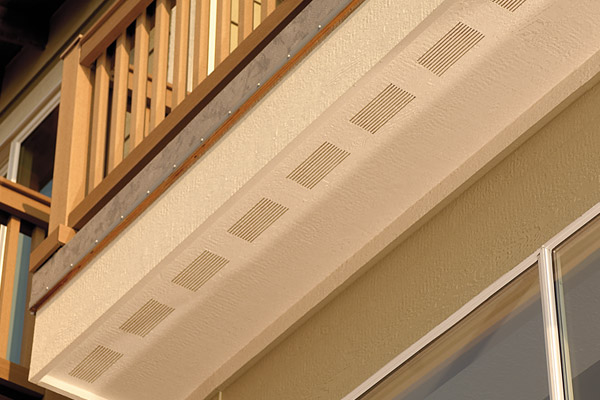 Engineered wood used as soffit with pre-cut vents. Good protection in areas where rot and mildew are always a problem.  Making this house minimal maintenance and stylish too.  


If you have problems like this, this is the perfect place to use this product.  You only want to have to replace the soffit and facia one time, make sure you use something that is water and rot resistant.

---
If you are looking for an alternative wood, engineered wood is certainly worth looking into. It costs a little more than vinyl siding but is much stronger, will stand up to harsh weather better and has much less maintenance than real wood. 
---

Some people refer to Cement Board Siding or Fiber Cement Board as well as cement fiber siding all as the same type of product.
They are remarkably similar in that they are all man-made products that look like real wood.
Hardie Board is one of the best-selling products in the country. 
To see more information on Cement Board Siding types and styles click here:
---
---