VINYL SIDING TRIM
What about vinyl siding trim, Add On's and Accessories?  
It's the vinyl siding trim that gives your home that fresh fresh look.
Clean sharp lines 
Never needs painting
No more rotting wood to fix or repair yearly
Looks great when people drive by
No more climbing on ladders to work on the trim again
Trim gives your house that crisp fresh look. Clean sharp lines that never need painting. No more rotting wood to replace or paint each year. Just years and years of maintenance free summers.
Below is CertainTeed Trim Packages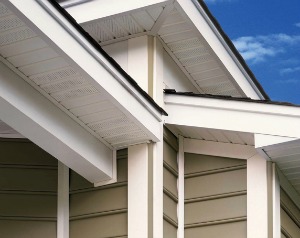 Trim, overhang, soffit, and window and door trim
Vinyl siding trim or accessories, sometimes called Add-On's is the last step of the project. 
Contractors can go around and cover all your window and door frames. Use special corner pieces that look great forever and never needs painting again.
Cover that old facia and soffit with a new trim that will keep your house looking fresh like it was just painted, and it will stay that way for decades.  
Some people tend to not spend the money of premium trim packages, we feel it is money well spent.  
What do people see when they drive by your house?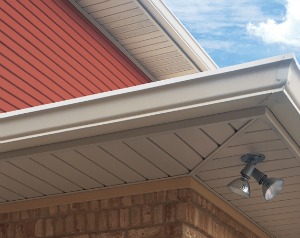 Progressive Foam Trim
If your home is old enough to need a face lift by adding new vinyl siding, it will most likely need some work on the old trim too.  Ugly trim with flaking paint on newly installed vinyl siding will stand out like a sore thumb.
What does your trim look like?
Vinyl siding trim gives your house that crisp fresh look. Old, discolored trim will make your house stand out as not completed.  Drive by any house and one of the first things you will notice is the front door and window trim.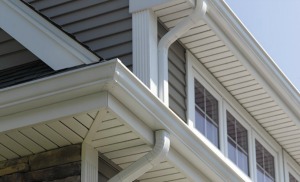 New trim makes the home look freshly painted
shown here is CertainTeed Trim. 
Never have to paint over-hang and trim again. Here CertainTeed Tim has been applied to the corners, facia, and soffit.  What a great look from the street. 
Don't forget the gutters.
Don't forget about your windows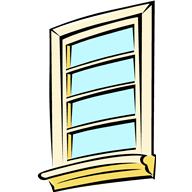 Window trim give the house that new clean crisp look.   What better time to paint or cover your old window and door frames.  Walk around your house and make notes in your project workbook what your window and door frames look like.  
Sometimes just a good fresh coat of paint will be enough. If you do want to cover the frames, be sure to go over this with your contractor.  Some contractors sub this out to other contractors who specialize in this type of work.
Either way it will cost you more money to address.  Most people think it is well worth it. 
If you are thinking of new replacement windows for your house, while you are doing the siding is the best time to do the windows too.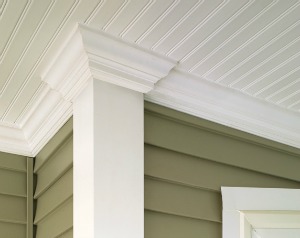 Trim and soffit is very important
Don't forget your porch ceiling.
Instead of painting every few years just take your garden hose and spray it when it gets dirty.  Never paint porch ceiling again.
Vinyl Siding Trim Gives Your House That Complete Look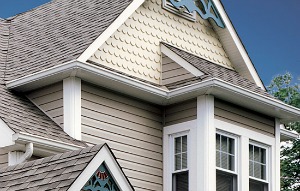 Vinyl siding trim adds the complete look to your house. The trim is what people notice when they drive by. That new, clean look. And the good news is that it will stay that way for years to come.
It is actually less expensive to cover all your wood trim areas than to have them painted. Especially considering that you need to paint on average every five years. Year after year after year.
The new trim packages will give your house that fresh painted look for decades.  
New siding and Trim makes any house look better
It is the small details that really make a difference when doing vinyl siding on your home.  You want to cover everything that used to need paint.
Go over the Add-on' s or trim accessories with each contractor you talk to. Ask each one what he thinks and how he would go about installing the trim on your house. Ask him what brand he uses and why.   
Most contractors apply the trim, facia, and soffit first, so they need to know what trim choices you are interested in.
To see more information on Vinyl Siding Pricing and what to look for when shopping for prices, click here.

To Review different Vinyl Siding Styles, click here....