How To:
Review how to tips from contractors and homeowners on do it yourself information.

Cleaning Vinyl Siding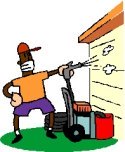 Vinyl siding cleaning is not that difficult. Just like your car, your vinyl siding needs cleaning when it gets dirty. You can easily clean your siding by making an afternoon project out of it and have the kids help you. Family day! 
Click to review tips and techniques on cleaning vinyl siding. 
Vinyl Siding Cleaning Products.

---

Buying Vinyl Siding

---
Measuring Your House

---
How To Make A Budget

---
Painting Vinyl Siding

---
Finding a Contractor

---
Working with contractors

writing a contract
How much money should you pay up front
Important details to put into contracts
---
Home
› How To Page