BUYING VINYL SIDING MADE EASY
If you are looking for information on how to buy vinyl siding for your home, it really helps to have a plan.
OUR PLAN: which is the same plan used by contractors, is a simple three step plan.
First: research the product, using our site.
Second: copy and paste relevant information onto worksheets, and,
Third: just print out the worksheets and give a copy to each of the contractors, tell them to give you a price based on the information on the worksheets.


This plan allows you, the homeowner, to gather most of the critical information about how to buy vinyl siding BEFORE you ever call a contractor. This method will save you a lot of time and a ton of money!
---
NOTE: Since all the contractors should be giving you a price based on the "same" information, you need to give all the contractors the same information. That way You will be able to compare all the prices, "apples 2 apples", and see which one is really giving you the best price!
---


Contractors need to know certain things about your home, and about the products you are interested in buying before they can give you a qualified price for the job and the real cost of vinyl siding for your home.
We are going to guide you down the path of important questions to ask just like you were a contractor, and in the same basic order of importance...
So let's get started...
Step One: Research Vinyl Siding


There is so much information about vinyl siding out there that it will overwhelm you unless you have an organized method of reviewing it.
Our simple plan, used by contractors, will help you organize the most important information the same way a contractor does. This will save you a lot of time and allow you to be able to talk to any contractor about the important items of your project.
Vinyl siding costs vary greatly depending upon the quality of the products you buy, and the quality of the installation of the contractor.
If you don't know about these differences, you may end up paying way too much for your job.


What does the contractor need to know?
When a contractor first comes to talk with you about your project, he will be making himself a list of things to do so he can give you a price.
He will need to know certain information about the products you are interested in, and information about your house.
In the case of vinyl siding, he will ask you questions in a particular order to get a handle on what you are trying to do.
One of the first questions he will want to know is simply, what type of siding are you interested in.
Vinyl siding come in two basic types, Vertical and Horizontal.
Since they require different installation procedures, he must first know this before going farther.
The second question the contractor will need to know is '"what is on the exterior of your house now?
---
NOTE: This is very important to a contractor, because he will want to know if he has to take the existing material off your house before he puts the new siding on.
---


So lets get started by answering the first two questions the contractor will ask you.
What type of siding are you interested in, and
What is on your house now.
So let's review this basic information about vinyl siding.
HORIZONTAL PANEL SIDING
Horizontal Vinyl Siding
CertainTeed Beaded Clapboard Siding in Cream Color.
Clapboard siding is the most popular siding in the U.S.
Note that siding panels run horizontal, This is basic Clapboard Style Siding. It looks like wooden planks. Classic styling that enhances any home.
Clapboard comes in several styles, but for now we are looking only for vertical or horizontal type, pick the one that you like the best for your home.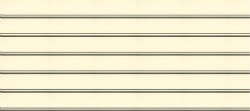 CertainTeed Beaded Siding 6 1/2" Cream Color
The deep "V" groove design in Beaded Siding creates a distinct shadow line. Looks like hand-crafted boards


If you already know that you like the Horizontal Siding type, and want to see a more styles in this type click here to go to CLAPBOARD SIDING



---



VERTICAL SIDING
Vertical Siding or Board & Batten Siding runs Vertical.
Here CertainTeed Board & Batten is used as an accent in conjunction with clap board vinyl siding.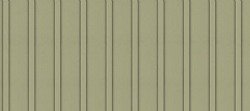 CertainTeed Board & Batten Vinyl Siding
Alternating wide and narrow vertical panels combine a simple, yet beautiful design.


You need to choose which type of siding best fits your home before you move forward, because...
Vertical and Horizontal siding have completely different installation methodology and require different amounts of labor and materials. Contractors must know this to figure out their time and materials.
Both types come in virtually unlimited styles, colors, and textures.  But we will come back to that latter. 
Styles of vinyl siding and vinyl siding colors will not affect the overall price of the job significantly.
Colors and textures are one of the last things you need to pick out.


If you know that you like or want Vertical Siding, and want to see more about it click here to see Vertical Siding or Board & Batten Siding


If you are looking for Vinyl Cedar Shake Siding, then click here to see Vinyl Cedar Shake Siding



---





A contractor will need to know if you are going to put new siding over old wood siding, or aluminum siding, or stucco, or replace old vinyl siding already on your house, the contractor must know this.
It costs money to remove and or repair old siding.
Also, different exteriors require different prep work before new siding can be applied. Stucco requires different types of prep work than does old wooden siding.
And the costs varies considerably between the different types of old existing siding. Old wood siding will almost always have some weather or insect damage that must be fixed before new siding can be applied.
NOTE: This is why any estimate of cost that a contractor gives you will have some clause written into the contract that 'unseen' damages are to be addressed on a different work order. This protects the contractor when he finds major damage that could not be seen upon surface investigation.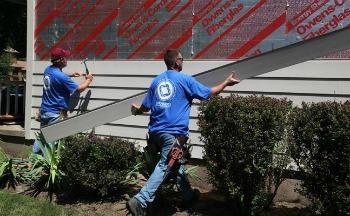 Step Two: Use The Worksheet

Our Worksheet
We have designed a worksheet that will guide you through the decision making process with answers to the questions the contractor will need to know.
It will also explain why the contractor, and you, make these critical decisions.
It will also allow you to have the information to talk intelligently with the contractor about your project. It will also keep you from buying items or products you may or may not need.
Go to the worksheet, print it out and use it to gather critical information that you will need to complete your project and help you talk intelligently to your contractor.
When you are done, just print out the completed copy. In fact print out several copies so you can give them to several different contractors and be sure to keep a copy for yourself.
CLICK HERE to go to our WORKSHEET
The above examples are already on the worksheet for.



Go to Vinyl Siding Styles

Go to CLAPBOARD SIDING

Go to BOARD & BATTEN SIDING

Go to VINYL CEDAR SHAKES and SHINGLES