Economy Vinyl Siding

Alside manufacturers superior quality economy vinyl siding. Comes in a wide range of today's most popular contemporary colors, textures, styles, and types. 
Conquest is a competitively priced siding panel that doesn't skimp on appearance or quality.   Lifetime Transferable Warranty.
Conquest is a competitively priced siding that doesn't skimp on curb appeal or quality. 
It features rolled nail hem for increased panel rigidity and appearance. 
Conquest   Beautiful Balance of Quality and Value 
About:
Here's the beauty, easy-care convenience, and superior quality you demand in your siding.
Conquest is a competitively priced siding panel that doesn't skimp on appearance or quality. 
Features and Benefits: 
Comes in Dutch-Lap and Clapboard styles 
.040" thickness 
An occasional rinse with a garden hose will keep the natural cedar grain texture and low gloss finish beautiful year after year.
Lifetime Transferable Warranty 
---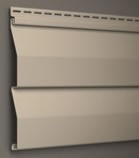 Conquest Dutch Lap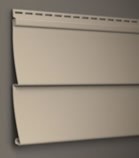 Conquest Clapboard Double 4 1/2" Lap
---

Conquest Economy Vinyl Siding Colors 


(click here to enlarge)
Click here to print out the PDF Color Chart   Click Here
---
You don't want just any siding for your home. You want distinction - a home that stands out. Conquest gives you classic beauty that creates dramatic and lasting appeal.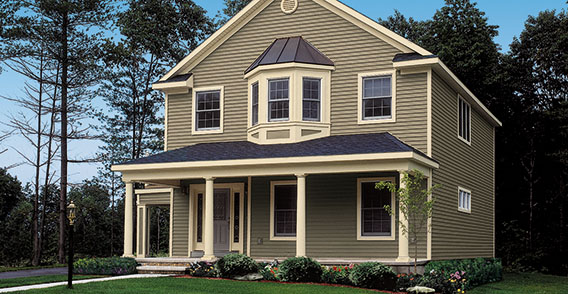 Conquest Vinyl Siding by Alside
Alside Conquest Vinyl Siding
Conquest vinyl siding is a economy vinyl siding that does not hold back on quality or style. Perfect for the homeowner looking to add curb appeal and stay within their budget.
Outstanding appearance.  Enjoy exceptional look-of-wood beauty with classic 4 1/2" clapboard and Dutch-lap profiles...natural cedar-grain texture, crisp shadow lines and a rich selection of 14 low-gloss colors that look just like painted wood.


Easy maintenance:
 Save time, save money. No more sanding, staining, or painting.
Saves time
saves money
no more sanding, staining, or painting! 
just wash Conquest occasionally with a garden hose to keep it looking like new.  Year after year after year...
Superior quality: Forget costly repairs too, because tough, durable Conquest is made to last.  It's also backed a lifetime limited warranty for your protection.
Outstanding options:  Create a total look for your home with an extensive collection of Alside coordinated exterior design options. 
Maximum value:  You get all this at a price you'll appreciate. Sure, it's going to look like you spent a lot more-but that's what outstanding value is all about.

To see more information on Alside Vinyl Siding and their many products, click below'
Trim and accessories   
Cover all corners, facia, soffit, overhangs, window/door frames to reduce maintenance and painting.
To see more information on Vinyl Siding Trim and Accessories  Click Here
How Much Does It Cost?
How much does it cost is a loaded question? Economy vinyl siding is designed to be affordable to the average homeowner. It is usually a little thinner, generally around .040".  Thicker siding will cost more. 
Vinyl siding comes in a wide variety of thickness, colors, textures, styles and yes, different prices.
The good news is that there is a vinyl siding that will fit most any budget from economy to super premium.

The homeowner should have a general idea of the budget they are willing to spend on their home before calling the contractor.

So how do you figure a general budget to install vinyl siding on your house?
First: Pick out several vinyl sidings that you like and would look good on your house. For more help on picking out styles of siding click here.
Second: Measure your house to see how many square feet of exterior walls you have. Siding is sold by the square footage. So, you want to know this number. For more help on finding the square footage of your house click here.

Once you have picked out several styles you like, and you know how many square feet you will need to buy, next you want to determine the thickness or quality of the sidings you have picked out.
Remember that the thicker the siding the more it costs.

To see more information on how vinyl siding can increase the value of your home and certainly increase the curb appeal of your home, go to the Vinyl Siding Institute's page.   Click Here

Contractor Tip:  Before you start calling contractors do a little homework first.  Look at several different types and styles of vinyl siding and pick out one or two.  It saves a lot of time if you know generally what type of siding you are interested in. 
For more information on how to buy vinyl siding click here.  How to Buy Vinyl Siding? 
---
For more information on the many different Types of Vinyl Siding..click here. 
---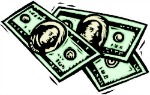 What Does It Cost to Install Vinyl Siding?
What does it really cost to install new vinyl siding on your home?  Putting new siding on your house is a process that includes several different components. 
The old siding has to be removed
You must buy the siding
You must pay a contractor to put the new siding on
You have to buy the add-ons like trim, corners, soffit, and facia 
All rot, termite and water damage must be fixed first
and other things.  
for more information on vinyl siding costs...click here

---