Mastic Board and Batten Siding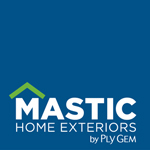 Mastic Board and Batten Siding
Mastic Board and Batten lends charm to small spaces and a contemporary feel with a dramatic sense of height when used as an accent.
Mastic Board and Batten Designer Series creates an inviting look to entryways or can be used to highlight the vertical lines of peaks and gables.

---
Mastic Board and Batten Vinyl Siding recreates a warm and traditional look.

Mastic Board and Batten when used as the primary siding style, it perfectly recreates the charm and traditional look of a mid-western home. Now with deep earth tones and darker contemporary colors, you can enhance your home's style with one of the industry's broadest color palettes.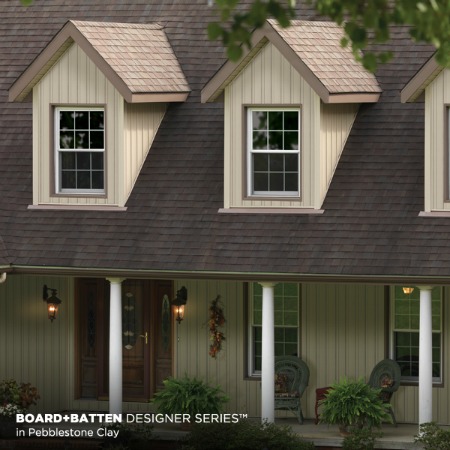 Board and batten's pattern of vertical lines can have a powerful effect on the look of your house. It is an excellent choice for entryways, low porch walls, gables, and dormers. 
---
Two popular Mastic Board and Batten Profiles

Here are two popular widths, 5" and 7".  This means that the Double 5" has two 5" panels running up and down or vertically.
Likewise, the 7" panel has one 7" vertical panel.  This is called the 'Profile' of the siding.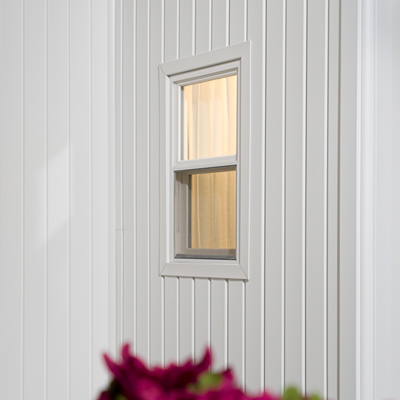 Board and Batten Double 5"
---

Premium Designer Series Vertical Siding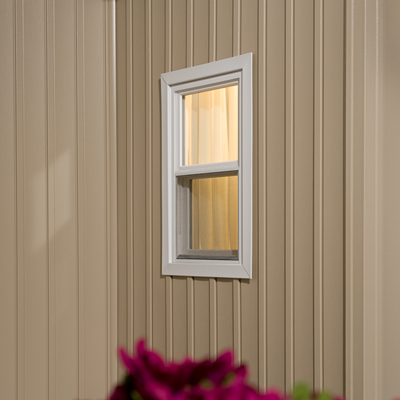 Designer 7"

Mastic Designer 7"
Shown here is the Designer Series 7" panel.
.048 premium thickness
Wind speed rated up to 175 mph.
Fire Rated Class 1 (A)

Authentic wood grain texture.
Advanced locking system.
Limited Life Time Warranty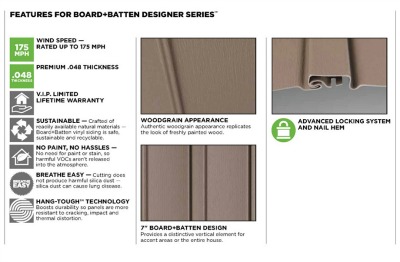 Back to Mastic Siding Page, click here.
To review more general information about Board and Batten Vinyl Siding click here.
---
Once you have the type and style of siding you feel would look best on your house, and have this all written down in a notebook, then you can start comparing prices of the various products.
When you go to your local home improvement store like Home Depot, with your notebook full of information you have collected, you can shop each brand more easily. 
This saves a ton of time and makes sure you are getting the product that best suits your needs and house.  You can compare warranties, thickness, and colors.
To see pictures of homes using Mastic board and batten and other types of siding click here.